Learning to day trade is one of the most challenging things I've done. When I first searched "how to day trade", I had no idea the depth of the question I was asking. I thought learning to day trade the stock market might be like learning to change the oil in a car. I thought I could follow some instructions, learn a few techniques, get some special tools, and start making some extra money each week. It took me 18 months before I was consistently generating profits from the market. Imagine trying to change the oil on your car for 18 months with no success! The level of frustration I experienced probably wasn't that much different.
Only 10% Succeed
Many of you have probably heard the statistics that only 10% of traders will be able to make a living as traders, the rest will lose money. I heard this when I started trading, but I decided to give it a try anyways. I thought the 90% who failed maybe didn't try hard enough, or had the cards stacked against them by being distracted with full-time jobs, kids, family, etc. When I started trading, my life was very simple. I had just moved from NYC to Vermont and was doing outside consulting for an architecture firm in NYC. My schedule was free to focus on learning to trade. In hindsight, I wish I started my journey by trying to understand the reasons why 90% of traders fail. By understanding the leading cause of failure early on I think I would have been able to quickly address what my own struggles would be.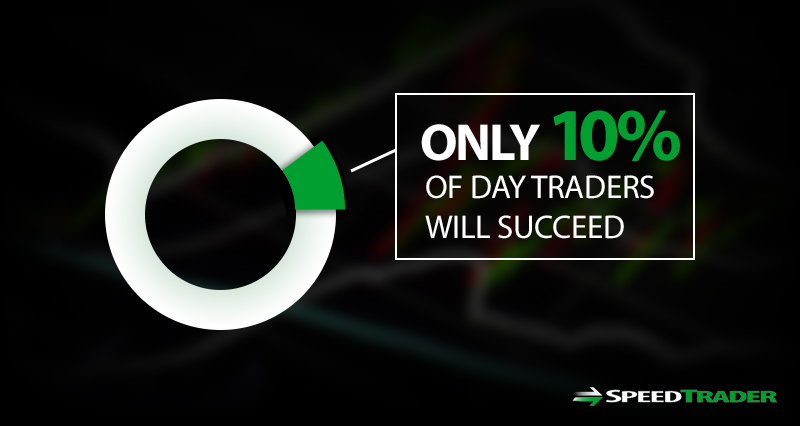 Biggest Causes of Failure
After years of trading the markets and working with traders, I've learned that there are 2 primary causes of failure. The first cause is simply a lack of training. Thousands of traders will fund live trading accounts this week alone, and start trading with no experience. Attempting to trade the markets alongside millionaire traders and billionaire hedge fund managers with no experience is a recipe for disaster. A trader must focus on educating themselves and that means trading for at least 1 month in a simulated trading account. Traders must prove they have the skill to profit in the market before trading with real-money.
The second leading cause of failure is an inability to manage risk. The most fundamental concept a trader must understand is risk. Every trade involves a risk and reward analysis. Successful traders all share one common statistic. Their average winners are bigger than their average losers, and they are right more than they are wrong. Beginner traders typically have losers that are bigger than winners, and have very poor accuracy. As a result of these statistics, they cannot be profitable until they make a change.   Possessing a track record with strong statistics to support its profitability is the result of trading based on a well defined trading strategy.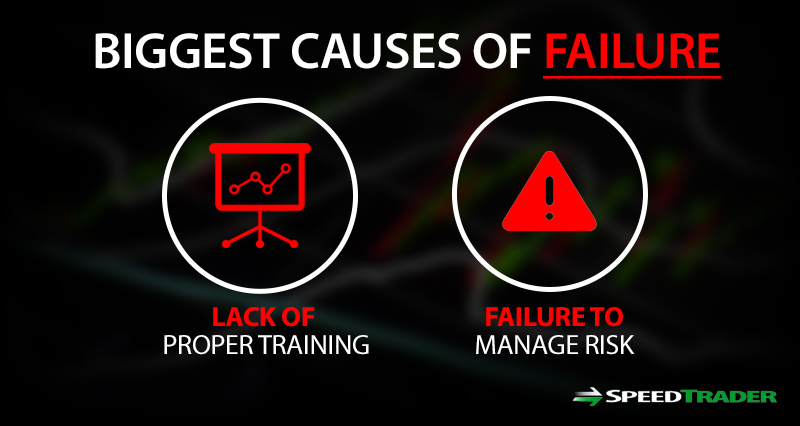 Developing a Strategy
Every trader needs a strategy in order to profit from the market. A trading strategy should be a written document outlining the type of stocks you trade, the price range, the market cap, how to find these setups, entry requirements, exit indicators, and historical data showing the accuracy of the strategy. I developed a strategy over the course of 18 months through trial and error. I wish I had the benefit of learning from a professional trader but at the time when I was getting into the market I didn't feel there was anyone I could look to for education.
A pattern to be mindful of is the tendency that new traders have of jumping from strategy to strategy. They will try one strategy for a few weeks and get frustrated, and then try a new strategy. I think it's good for traders to test different strategies but it's also important to master one strategy before trying to add others.
During my first 18 months of trading I worked to develop 2 strategies based on trading the strongest stocks each day. At night I studied the charts of stocks that had moved up 20-30%, and tried to find common factors that caused the move or might indicate the beginning of a move. What resulted are my two favorite strategies, my Momentum Trading Strategy and my Gap and Go Trading Strategy. You can read more about those if you're interested. These strategies are customized for my personal risk tolerances and trading styles. At the end of the day, you need to develop or adopt a strategy that is a good match for your risk tolerance, account size, and trading style. Each trader's personal preferences will help define his or her strategy. As a result, no two traders will have the exact same strategies. Remember that when you are testing a new strategy you should be trading in the simulator! You never want to trade a new strategy with real money.
Using the Right Tools
Trading is a profession that can generate hundreds of thousands of dollars a year. It's also extremely competitive, and the best traders often keep their tools and strategies a close secret. Using the best tools will give you an edge. I use Speedtrader as my Broker, and Trade-Ideas for my stocks scanners.    I use Speedtrader because the direct access platform is extremely quick, reliable, and allows me to customize hot keys for lightening fast trading. In order to find stocks that meet my criteria I have programmed Trade-Ideas to give me alerts in real-time. This is an invaluable tool. I use the trade alerts generated by Trade-Ideas scanners to trade them with my Speedtrader account. This is part of my daily routine as a full-time trader.
Becoming a Full-Time Trader
Something that unites traders of all experience levels are losses. We all experience losses from time to time and we all hit rough patches. This isn't a line of work where we clock hours and get paid the same amount each week. Some weeks we might make a full month's salary, and then the next week we'll lose half a month's salary. Learning to maintain composure through both the ups and the downs will be critical to your long term success. I've fallen into more than my fair share of ruts and trading slumps. Even after years of trading there are times when I have to step back and review my strategy, or make adjustments to compensate for changing market environments.
Today, while trading in my Speedtrader account, I made just over $4,390 trading 1 stock. This is the potential the market offers for those who are able to fight through the learning curve.   It took me years to get to the place where I am today, but I believe that road to success doesn't need to be as long or as bumpy as it was for me. A beginner trader should immediately focus on gaining the best education possible, using the best tools, and trading in a simulated environment. By practicing with strategies proven to be profitable you can begin to develop a foundation in trading and begin to learn what strategies will be the best fit for your personality.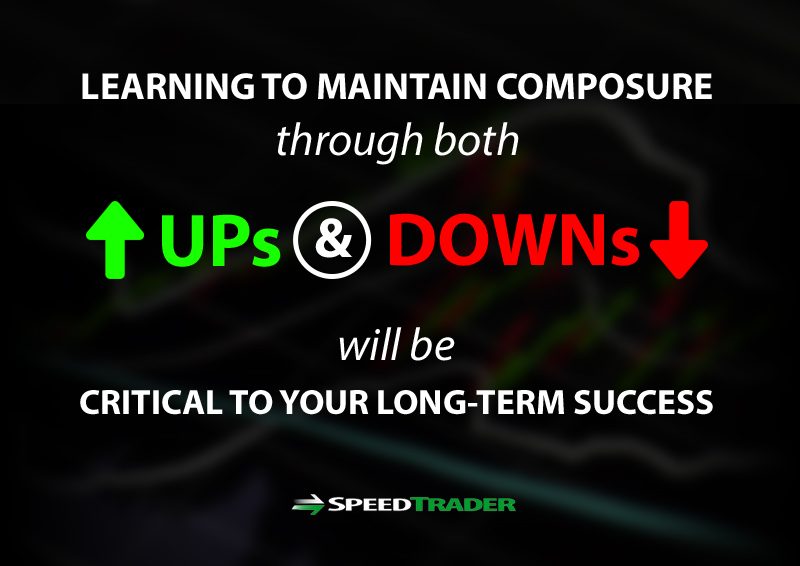 About Ross Cameron
Ross Cameron was born and raised in southern Vermont.  He is a graduate of the Dublin School and holds a Bachelor of Arts degree from Vermont College.  While in school, he studied architecture and became proficient drawing construction documents in AutoCAD.  During the mid 2000's, Ross lived in Manhattan and worked at an architecture and product design firm.  After watching his investments lose value during the late 2000's, Ross believed he could achieve better performance by managing his portfolio himself.  He moved back to Vermont and began day trading small cap stocks under $20.
In 2012, Ross founded Warrior Trading (formally, Day Trade Warrior) as a live trading chat room for education and idea generation.  He wanted to create a community where traders could surround themselves with other professionals.   In 2014, he began teaching Day Trading classes with a focus on risk management, stock selection and identifying the safest entries.   Ross continues to trade in his chat room and teach trading courses.
In his free time Ross enjoys sailing, gardening and fixing vintage Mercedes diesel engines.  Ross lives with his family and his dogs in Brattleboro, Vermont.