Preferred Partner Program
Team up with a leading day trading broker.
Receive commissions and offer discounts to your audience.
Why Traders  Choose SpeedTrader
Competitive Commission Rates
SpeedTrader offers a commission structure that is designed to reward active traders.
Stock trading as low as $2.95/trader or $0.0025/share
Options trading as low as $0.40/contract
Per-Share Commission Structure
Traders love the agility our per-share commission structure provides. Navigate in and out of positions and only pay for the shares you trade. 
Direct Market Access
SpeedTrader is a direct market access broker. We cut out the middle man and send orders directly to the market. This results in faster executions and better fill prices.
Better Short Lists
SpeedTrader offers some of the best short lists in the industry. Our traders also have access to a third-party locate system that can be used to find premium locate stocks in real-time.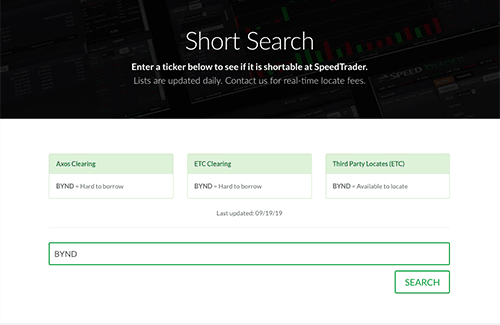 Check out our daily short list with fresh updates every 10 minutes!
Exclusive Discounts
 Partners can offer exclusive discounted commission rates to their customers/subscribers.  We can also arrange new account promotional deals to sweeten the pot even further.
Guaranteed Payouts
Select partners will be awarded fixed monthly payments. These partnerships offer the security and predictability of guaranteed revenue with additional incentives for performance.
Performance Bonuses
We value long-term relationships and seek to reward our top-performing partners. Partners who exceed expectations will receive monthly payout increases and performance bonuses.
Grow Your Brand With SpeedTrader
Joint Marketing Opportunities
We're looking for partners who want to grow together. We work closely with partners to craft creative joint marketing opportunities that enable both brands to grow.
Brand Credibility
Increase your businesses's credibility by partnering with a well-established broker that has been active for over 20 years. We take our partner vetting seriously and choose to work only with the most well-respected brands and individuals.
Scalability and Growth
There's plenty of room to increase commissions and payouts with the SpeedTrader Partner Program.
Additional Perks
We value our partners and always go above and beyond to show it. We've sponsored events and taken partners to the Stock Exchange to express our gratitude for the work we do together!

STEP 1: Make a Deal
We work closely with our partners to create mutually beneficial arrangements that allow both brands to grow together.

STEP 2: Promote
You will be given a special link to start promoting SpeedTrader. Our team is at your service and ready to provide you with custom banners, graphics, and landing pages. 

STEP 3: Get Paid
We pay all of our affiliates promptly at the beginning of the month!
Multiple Ways to Promote!
Interested? Reach Out Below